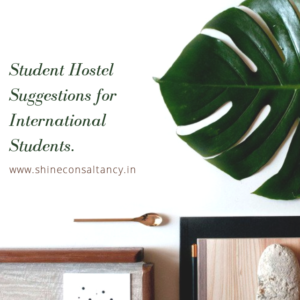 Residence can be a concern when you are trying to shift overseas. More than you, your parents stay a little worried about the same as they have provided you the best they could and want to ensure that you continue getting the same. Lot of us have relatives residing in the countries where we migrate but it is not necessary that everybody has some or other person to stay with.What should an ideal hostel have?Well, according to the popular preference it should be hygienic as the surroundings we reside in must be tidy and organised and free of pests. We are sure that you do not wish to fall ill in a nation that is very new to you and you are not familiar with the healthcare facilities yet.Secondly you want to check that a good crowd walks into the campus and you do not have to stay with suspicious inmates or develop bad company. A lot of kids that fly across have a basic set of values that bad company cannot ruin but there might be chances that you are bullied or feel uncomfortable in the same kind of environment.Thirdly you wish to check the affordability and availability of food. The food must be fit for consumption and the rent must fit your budget. However that problem can be solved. We have got you a long list of many such hostels with varying rents and you can select the one that suits your budget. For food, you must learn some basic cooking as it comes really handy and can carry a hotplate along with you. You can also call for food from various food joints and delivery services and eat healthy and scrumptious meals.So here is the list of these hostels and you can look up on Google for their first hand reviews.Have a happy stay!
Chelsea International Hostel:
Perks:
Free Breakfast
Luggage Storage
Bike Parking
Free WIFI
Free Pizzas on Wednesday evenings
Jazz on the Park Hostel
Perks:
Games Room
Tour Desk
Key Card Access
Coffee Bar
Q4 Hostel
Perks:
Highly Affordable
Tour Desk
Luggage Storage
Attached Bathrooms
Single-sex dorms available
Key-card access
Book exchange.
The Broadway Hostel
Couple Friendly
Shared Kitchen
Lounge
Library
Television
Housekeeping facilities
Hostelling International New York
Great common areas
Laundry Services
Ice-breaking events every night.
Huge kitchen with multiple burners
Pool table and games room
Movie room
The Local
Computer Room
Free WIFI
Laundry Facilities
Event evenings
Movie Lounge
International Student Centre
Housekeeping
Luggage storage
Exclusively for students and youths aging between 18-35.