WHY IS U.S.A THE PLACE FOR YOU?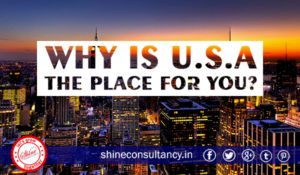 Being a permanent member in the United Nations, States have led the world in economy, defense, technology, medicine, research and retail. With an annual G.D.P of $ 18.558 Trillion, the nation is home to 4,000 top notch universities that provide quality education and conceptual learning. Here are a few reasons why America will prove to be the best career destination for you.
Offers Diversity. 
Discovered by a traveler and led by trendsetters, this country has a story of it's own. Outside the books of history and culture it does not have a ruling religion and it's ethnicity is harmony. Your classes will consist of students of all ages, religions, and countries of origin. This provides a stimulating and rich learning environment which encourages cross-cultural understanding and networking. There is a wide range of schools, countless areas of study and specialty degrees. If you are interested in studying business, you are not relegated to just general study, but can choose from many concentrations: accounting, marketing, international business, business management, business administration, or finance. This type of specialty study is available at the undergraduate, graduate and doctorate level, too.
Caters unique learning experiences.
U.S. universities and colleges may differ from those in your home country in several ways.  There may be as few as 10 to 20 students in a class, giving you the personal attention you need in order to succeed. While in class, students are encouraged and expected to contribute to the discussion. Studying in the U.S. gives you the opportunity to gain a mentor in your given career field, an invaluable resource. You may be surprised at your professors willingness to challenge authority. Academic freedom is one of the hallmarks of a U.S. university. You will notice different perspectives on instruction. Here, students are trained to observe and analyze a problem, then solve it. You will be expected to listen to your classmates and challenge their points of view. The goal is pragmatic, so that you will gain confidence and the ability to organize and present an argument.
Employment prospects.
International students in the US can work in a job on campus up to 20 hours a week. Most find that their time is better spent taking internships, or Curricular Practical Training, which allows students to work for university credit in a job in a related field. Nearly every university, even those not located in metros, has employees dedicated to helping students secure internships.
All US universities also offer numerous extra-curricular activities that provide real-world job experience. This could include writing for the school newspaper, participating in science fairs, joining the debate team, and much more. The idea is to give you practical experience to hone what you learn in class. This becomes invaluable when interviewing for a job.
All US institutions have a career services department staffed with professionals focused on helping students with their CV, teaching job interview skills, and helping them find job opportunities, both during and after their studies.
Amazing research and development.
The US is at the forefront of scientific and creative innovation. Large research institutions in the US, in particular, offer opportunities for students to work side-by-side with their professors and apply what they are learning in the classroom in the lab or workshop. US institutions proudly support the fieldwork their faculty is doing and information is readily available on research opportunities students can undertake.