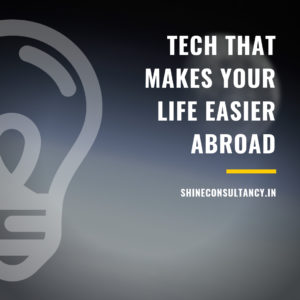 Millennials are well versed with applications and tech that make their lives easier. Technology has come really handy to us in a lot of ways. We can do almost anything using our mobile phones. Here are a few apps which shall help you mend your ways and add ease and convenience when you are trying to adjust in a foreign atmosphere. You might be a little shy to ask for help and these app companions would help you find your way through the towns.
1) TUBE MAP LONDON UNDERGROUNDThis app is pretty useful for all the folks that are living in and around London. This app alike M Indicator, shows you schedules, routes and maps for different stations that you would have to travel to during your stay. You can conveniently find out the appropriate metro that picks you and drops you off at the preferred time. An elaborate map is provided for those who wish to select a route.2) Couchsurfing.Couchsurfing is one of the most interesting apps you will come across. This app will come handy in your initial times when you have recently flown in and do not have a house or enough funds to rent a room. On this app there are many warm and welcoming hosts that allow you to board and lodge at their cosy houses and apartments. You can check into one of those till you find yourselves a home.  Over 12 million travel enthusiasts use Couchsurfing in more than 230,000 cities around the world.3) Meet UpThis is an excellent social media app. Here you can get in touch with new and interesting groups of people. Socialising helps you meet new and innovative minds and create your own little groups of friends.  On this app you can even host Meetups. Debates, discussions, screenings, joggings, readings etc are present on this app and they ensure a new friend every weekend.4) Duo LingoThis app is highly useful for people that are setting themselves up in a country that does not speak English. This app is super easy and can translate words and sentences in seconds. You can also learn basic sentences and words for smoother functioning. Spanish, French, German, Italian, Russian, Portuguese, Turkish, Dutch, Irish, Danish, Swedish, Ukrainian, Esperanto, Polish, Greek, Hungarian, Norwegian, Hebrew, Welsh and English are the languages that they provide translation for. You can also play interesting games to sharpen your linguistic abilities.5) EventbriteFind out about the events that are taking place in or around your area. Attend Ballets, Gigs, Concerts, Operas or anything you would enjoy. Search and buy tickets for events based on interests, dates, popularity, and even what your friends are attending. The social nature of the app lets you share plans, so you can also invite friends to join your events right from the palm of your hand6) Converter+

Wondering how much to tip the waiter? Need to convert from Celsius to Fahrenheit? Converter+ contains over 100 converters and calculators including temperature, length, weight, and currency. It's simple to use, and invaluable for those adjusting to a foreign country.