STUDY AT THE AUSTRALIAN UNIVERSITY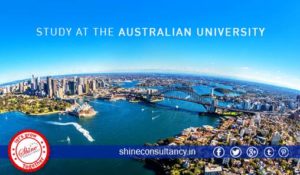 Australia stays the third best country for a student to develop his/her beaming career. In case you are not lucky enough to get into a university in the US or the UK, Australia will provide quality education and learning. This article shall brief you about the benefits of studying in Australia.
1. You Definitely Won't Be Alone.
No need to feel concerned about being the odd man out in Australia. On the third positions behind the United States and the United Kingdom in terms of total international students, Australia has seen at least 200,000 foreign students attend its universities for the past several years. Due to the popularity of study abroad programs in Australia around the world, Australia has become well known for being a very accessible destination for international students.
2. Scholarship Options.
While your home institution likely has funds available for students studying abroad in Australia, there is also another fantastic resource to utilize in the quest to make your international experience as affordable as possible. Every year the Australian government sets aside over $200 million dollars specifically for international students coming to study at Australian universities. These funds are open to students from all over the world and there are certain requirements for application to some (grade requirements, financial need, etc.) but any student accepted to study abroad in Australia should inquire with the University's financial aid department to see what scholarships may be available to them.
3. Unleash your creative potential.
The Australian University has given this world 15 Nobel Laureates who have amazed this world with their sense of innovation and creativity. In various sections of academics and industry, there have been splendid contributions by the students of this educational origin with their holistically developed intellects.
4. Visually treating landscapes.
Take a dip in the pristine blue waters of Byron Bays or trek in the Toolangi forests or stroll on the Sydney Streets. The beautiful terrains of Australia would bring out the explorer in you and its serenity will serve as a beautiful habitat. The low levels of pollution will help you stay energetic the entire day.