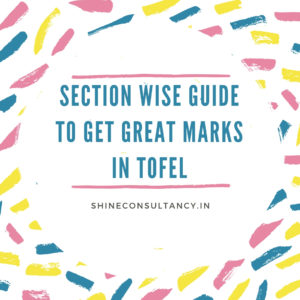 Test of English as a Foreign Language (TOEFL) is a recognised test module for more than 10,000 colleges and institutions in over 130 nations. This information is enough to explain the importance of scoring well in the examination. Every section needs equal time and attention if you want to put your best foot forward. Here is a section-wise guide by Shine Consultancy that would help you score your best and get into the University of your dreams.
Reading
For scoring better in the reading section it is implied that you will have to increase your reading speed and grasping. To gain mastery in that area, the only way is to read more and more. Novels, Newspapers, Short Stories, Poetries etc are the reading materials which are easily available and prove to be very effective. You can download the Kindle app or go to a library and involve yourself into engaging stories. Unseen passage questions can consume a lot of time. Make sure you get a generic idea of the passage by quickly reading through it before the examination begins.
Writing
Attention to details, coherency of thoughts and grammatical accuracy are the most important skills that you would require to clear this section. You will have to increase your writing speed at the same time. You could look into reference books to attain a few topics to practice on. Only regular practice can help you achieve finesse in this section.
Listening.
The main goal of this section is to test the candidate's listening abilities. A conversation involving two speakers, a student and either a professor or a campus service provider is provided. Each conversation is allowed to be heard only once. TOEFL focuses on understanding of the sense, implication and intensity in the words used in a conversation. To get acquainted with the accent you can watch interesting TV series or movies and have conversations about it with your friends and family. Do not forget to make notes while attempting this section.
Speaking.
Speaking is one of the most scoring sections of the examination, provided you give it proper justice. To gain mastery at this, three months prior the exam exercise talking in English only. Chat with your friends or make small talks with your colleagues. Most importantly, make conversations with your faculties and professors in English as they would correct you regularly if you are making any mistakes. Use shorter sentences to sum up your ideas in a quick and efficient way. You would not have much time in conveying your thoughts and feelings. Hence, it is important that you stay very organised in your thoughts and ideas.