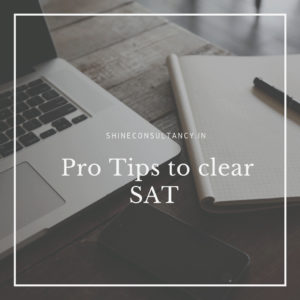 ---
SAT or Scholastic Aptitude tests are widely used as a standard for higher studies in many universities abroad. Over 1.69 million high school graduates in the class of 2015 took this examination. Right after your schooling, this test provides you a better exposure and utilization of your abilities. Most universities and colleges under The United States of America, use this as the standard of your capability and practical intelligence. Sections in the test are devoted to your skills of critical thinking, linguistic abilities and analytical intelligence. Mathematics is also an important segment of the test.
Here are a few steps on how you can efficiently clear the examination and give your best.
1) My Calculator: Myself
Having the knack of Mental Maths is a sure shot key to success in this examination. It is important for you to know the tables till 20 and memorise cubes and squares till 30. This would make the process swift and you would be able to answer accurately without much ado. With practice and patience, one can surely achieve grasp over Mathematics.
2) Have a great Vocabulary
There are plenty of apps and dictionaries that would help you increase your word power. Apart from that you are advised to read The New York Times blogs and news articles daily. Interesting games like scrabble increase your vocabulary and stimulate your mind towards a better intelligence quotient.
3) Understand How to use Multiple Choice Questions for your benefit.
Multiple Choice questions are the areas where you can score the most. However you must read the question very carefully and establish the difference between all the given options. Make sure you are making the correct choice.
4) Write as many essays as possible.
Writing practice essays would not only develop your understanding of your structure, but would also increase your speed. As soon as you increase your practice in those areas you will also gain more marks in the subjective sections where you can usually lose marks.
5) Memorise Formulae
Making cheat sheets or pasting formulae on your soft board any method that triggers your memory should do. Riders, theorems and formulae can be memorised very easily, once you understand their derivations. Later on you can concentrate on making minimalistic mistakes and increase your score in mathematics. Formulae shall help you solve sums in an errorless way.