Open Letter To Every Study Abroad Aspirant.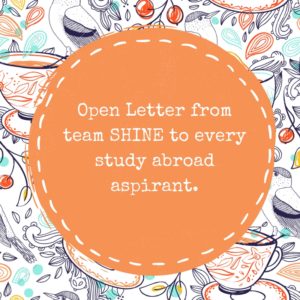 Dear Champ,
You have taken the best decision for yourself. Not many people take their careers so seriously and work so keenly on personal growth. There would be a lot of people, asking you to drop your idea.Many people would ask you to give up the idea because your visas have been rejected twice or you wouldn't have scored up to the mark in the tests. You might have a huge problem convincing your family members to let you go.
Most of the time important decisions do take time materialize but only your determination can change it into reality. If you have firm hope and endless faith in yourself nothing comes your way to study overseas. Not even money. You would always find scholarship programmes flooding your way if you are talented enough.
You might have fears like "what will I do if I feel homesick?" "how will I put up without my family?" "what if I indulge into bad habits and don't study up to the mark?"
To all those worried minds we would tell only one thing- Technology has bridged all the gaps. You would be able to virtually stay with your family through video calls and email so that you do not feel homesick or go astray.
Lastly, we would mention that do not give up on your dreams. Put in all the hard work and always make excellence your ultimate goal. At the end of this strife, there is a beautiful life, awaiting you. There is no joy or sense of achievement in mediocrity. The best things in life only come when you take better decisions for yourself.
Do well. Team SHINE sends out best wishes to each one of you.
P.S: If you have any difficulty in preparing for your exams then read our blogs or let us leads you to a better score sheet next time. Walk in on any weekday for the best IELTS, GRE, GMAT, SAT, TOEFL, PTE and more.