DRESS CODE FOR VISA INTERVIEW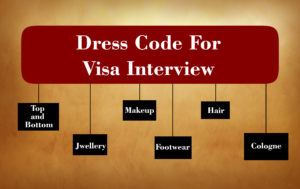 Confused about which attire to pick? Well, for a visa interview there is just one strict information for dressing- FORMALS. There are no other questions asked. Yet, we live in a generation that refers to quirk as its middle name.  We can always add style and variations in whatever we wear. Here are a few tips that shall help you decide the best attire for the day.
1) The Top.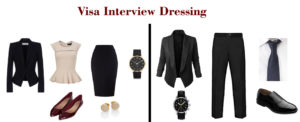 Blazers or formal jackets are a must for everybody be it a man or a woman. However, there has to be a correct choice of colours. Flashy coloured blazers such as red or yellow can leave a very negative and casual impression. Wear solid colours such as black, blue, grey or navy blue. The best option out of these is black as it is subtle to look at and easily available. To team up with the solid coloured blazer you must go with light pastel coloured shirts. Tangerine, Fuchsia or turquoise are one of the best shades to wear as they usually go with every solid coloured blazer. Avoid huge prints or polka dots on the shirt. Women can also go for neatly tailored pastel blouses. Lace or netted materials are to be strictly avoided. Do follow the three button rule while wearing the jacket or blazer. Wearing a tuxedo would make you look over-dressed and you wouldn't look appropriate for the occasion.
To have a little variation with the tie you could try different knots like the Cafe Knot or Eldredge Knot. They would add a little style and would not deviate from the simplicity of the dress-code.
In case you lack formal jackets a solid coloured shirt or a polo neck t-shirt shall work as smart casuals.
2) The Bottom
Men must stick to a pair of formal pants that match with the solid colour of the jacket. Women should always go for a pencil skirt that stretches till the knees. Even a little frill or lace would not give a good impression. Women can go for trousers or a pair of cotton pants. For women that are following the Indian Dress code shall stick to an Indian Plain Salwar and avoid any other alternative such as leggings or chudidaar. The material and colour of the bottom has to match the material and colour of the jacket. Breaking of that uniformity highly ruins the entire wardrobe. Avoid leather and Khadi.
3) Jewellery
Jewellery must be minimal at all times. Usage of flashy and gaudy gems and jewellery can be a huge turn off. Avoid diamonds and gems at all times (except pearls). Dangling earrings and nose rings are to be avoided at all times. Work wear jewellery ranges are available at various branded jewellery stores. Simple studs and a ring on the finger shall be enough. Avoid chokers and necklaces. Gold is the most preferable metal for work wear jewellery.  Men can certainly opt for pocket squares of pastel shades with small prints. Make sure they are folded properly. Avoid any jewellery that makes additional sounds. Make sure your dressing covers up all the tattoos you have on your body. Please remove piercings.
4) Make Up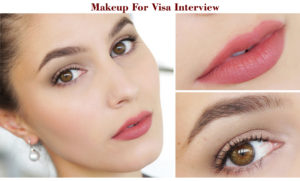 Women are advised to opt for the lightest makeup. Nude looks team amazingly with formals. Lighter shades of lipstick are advised. Eyeliner should be thinner and not extend much. It is also advised that the chipped nail polish should be removed or repainted ASAP.  You might have to wait for long hours before your turn arrives. It would be advised if you use smudge-proof and long lasting makeup essentials. You would have to carry several files and documents, so a carrying make up would not be very comfortable.
5) Hair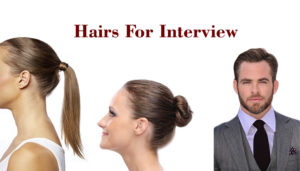 This is one of the most important part of the wardrobe. There runs a strict protocol for women- Hair below the shoulder, tie them! For men, the hair should be slightly below the end of the earlobe. Hair falling on your face while the interview leaves a very messy and unkempt impression. Make sure they are tied at the back. Consider trimming and spa treatment before the interview. Beards are not encouraged at the interview. A neat French beard is still appreciated. Do not use much gel. Sleek Vixen, Double pony tails or chestnut buns are the best hairstyles for women that have long or medium length hair.
6) Foot wear
Boots, loafers, sneakers or sport shoes are not at all allowed. Formal leather shoes for men and heels for women are the smartest choices. The footwear that matches the pastel coloured shirts within, are the smartest choices. Heels must have a proper length. Very high or very low length creates an imbalance. A fine layer of polish is a must before the d-day. Socks should be of a solid shade as well. Cotton is the most preferred material.
7) Cologne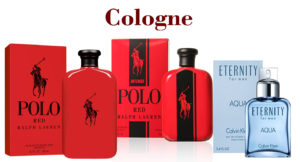 Very gentle smelling cologne that does not give anybody a headache is highly advised. Select aquatic aromas that are light and comfortable.  Wrist, behind the ears, chest and throat are the areas where a little spray of cologne gives a sweet, long lasting fragrance. Make sure you pop in mint or gum before the interview.
8) Things to carry.
Make sure you carry files and folders that have a decent shade. Instead of carrying several files, one file with separators shall be easy and efficient. Comfort is the key element for confidence. A good level of comfort with your attire and belongings shall reduce the nervousness to a great extent.