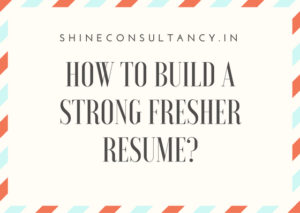 Soon all the students, applying for their overseas education would be drafting their fresher resumes and statements of purpose. It is important that you build an impactful fresher resume.When we use the term "fresher" it is understood that you do not have a significant job experience. However in your student career, there are a few things that you can do to stand apart and create first great impressions.
Participate In MUN: The Model United Nations seminars give you a great perspective on current affairs, the increase in peace, law and order around the world and also helps you interact with a few global citizens. They also put your powerful public speaking skills into utilization.
Take Olympiad Tests: There are national and international Olympiad for almost every formal subject taught at your school. You can participate in one of those and outstanding marks can always set you apart.
Learn Foreign Languages: Learning foreign languages and scoring well across levels can ease out your visa processes to a great degree. They always set you apart from other student resumes and increase your comfort of settling down in a foreign country.
Take part in inter-school contests: If you are athletic participate at every sports event. If you have great vocabulary, participate in JAMs, Debates and spell bees. If you are into current affairs and have a great knowledge of the world around you then make your school proud at a quiz contest. Almost anything that you are good at, there is a relevant interschool contest for the same. Collect certificates, medals and trophies and make your school proud. Later these things add to your fresher resume and demonstrate your fearlessness and enthusiasm.