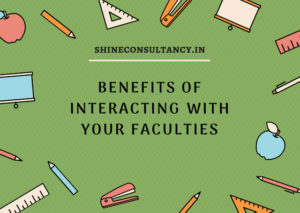 Once you travel abroad for education, you might have to start building a community. You need to know the people around and make new friends. However, building a good report with the faculty members has great benefits. Here is a small article that expresses how and why it is important to build connections with your faculty members at foreign Universities.
Get One on One Counselling
A personal interaction with your faculty members provides you access to one on one discussion ease with the experienced mastermind. The distinguished faculties at the foreign universities once befriended would help you with all your assignments when in doubt and you can also discuss your strengths, weaknesses and address any personal or professional issue if you have any.
Chances of Assistant Lectureship
More than a great learning experience, an assistant lectureship at a foreign university, speaks volumes in your resume. You can find great placement opportunities. What's more? After the completion of your doctorate you can also apply and have better chances of getting selected as one of the distinguished faculty members at the University.
Demonstrate Commitment.
When you try and interact with faculties outside the class it demonstrates your commitment and curiosity in the subjects taught. These virtues are highly regarded by faculties and they would invest special time and energies in you. They may also provide you with great reference material.
Access to external opportunities.
Professors are aware of all the great student opportunities, seminars and internships that you can attend. Such opportunities help you create niche and discover your true potential. They also add up and build a strong resume.
Get remarkable recommendations
Faculties, once aware of your complete potential can provide you with great recommendation letters. Recommendations from such distinguished personalities can give you really high paying employment opportunities. Make sure that you get one of those written.
Contacts and first hand experiences.
These faculties have a wealth of contacts and can help you arrange a meeting with some really great personalities and visionaries that you only dream of talking to. Building a report with such great minds is an extension to the benefits.