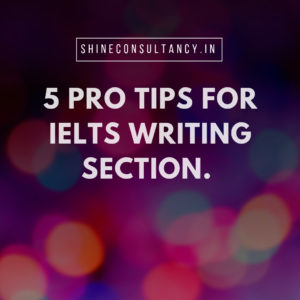 IELTS is one of the most common and necessary aptitude tests that you would have to take in order to study or migrate overseas. Canada, U.S.A, U.K and a lot of other international student friendly destinations recognize IELTS as the official aptitude test. A lot of students find great difficulty making it through the writing section of the test. Hence, SHINE has brought to you a step-wise guide, to get the desired bands. Read along. You can thank us later.
Analyze each task properly and spend some time making notes:
This happens to be the most important task when it comes to preparing for IELTS. Read the question carefully and understand what it demands in your answer sheets. Make note of every different type of question that you come across in the sample papers.
Highlight or underline key words in the tasks to make sure that you focus on what you have to do:
Highlighting the keywords would give you a more goal oriented learning. Also, surf Google for more profound words that you can use in your essays and write ups. Increasing the reading level of your write ups will award you more marks.
Use paragraphs clearly; put one idea in each paragraph:
Start a new paragraph with a new idea. That would make your write up look neater and more synchronized. It would also organize the flow of your thoughts and increase your speed and save your time.
Keep to the topic; do not write about unrelated subjects.
First attain clarity of the topic completely and then plan the sequence of writing. This process can consume your five minutes but save you from the wastage of 15 minutes-20 minutes if you lose the track of your thoughts.
Avoid informal language.
Usage of informal language, grammatical mistakes or spelling mistakes shall automatically reduce your marks. Also, work on your handwriting which shall improve your overall score and award you extra marks as well.